Difference between revisions of "Set"
Line 11:
Line 11:
 

:One step forward.

 

:One step forward.

 
 
−

Also see [[Tutorial Creating Compositions (Sets and Patches)]] and [[Tutorial Creating Multiple Compositions and Patches]]

+

[[]]

 
 
−

[[File:SetsV6.png|728px]]

+

 

 
+
 
+
 
+

[[]]
---
Revision as of 13:12, 15 January 2020
Set: In a set are so-called 'patches', complete compositions with multiple layers, as well as all parameter- and media information. With a single click, the full scene that is being played back can be saved into a patch. This can be later retrieved individually, or as a sequence. Please notice for latency-free output that patches are just 'lightweight', only the references but not the media itself will be loaded. (A)
Open Patch: IO Index: (B)
The patch will be triggered when a value is sent via script, DMX or Midi.
Closed Patch: The patch can be played, stopped and paused. (C)
Set Buttons: With the buttons, the set can be played sequentially. From left to right: (D)
Back to the beginning
Play
One step back
One step forward.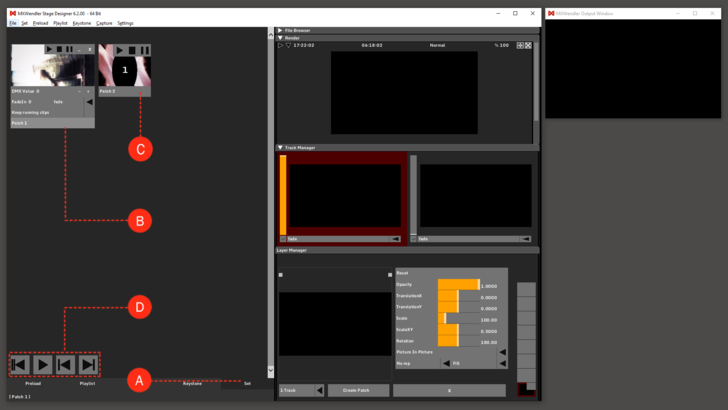 Also see: