Tutorial Playlists with Supertitles
Supertitles are an important feature for theatres and operas, e.g. to display text translations to the audience. Another appliance is to display song lyrics, for example a chorus.
Supertitle Specifics
Literally thousands of supertitles can apply to a single playlist, making it inefficient to store each playlist-controlled Supertitle in its own preload location.
For efficiency, MXWENDLER creates one internal preload for all the playlist supertitles in one individual show. As a technological consequence, supertitles have some characteristics:
• Playlist-triggered supertitles have no own effects and translations as with e.g. scaling, rotation
• The size, font and color of such supertitles can only be set once in the media settings.
Open Settings → Media → Supertitles
Specify supertitle font, size, color etc.
To apply the settings, restart the Playlist.
Changing the background color reqires an application restart.
→ Preload-triggered supertitles can have own effects and translations
Creating Supertitles in the Playlist manually
Simply select a playlist item, insert a preload element and choose 'text'
Right-click on Playlist cell (a)
Choose 'Preload'
Select cell
In the cell properties Text or Media, select 'text' in the media / text type choice (b)
Double–click the text preview box below type choice (c)
Enter a text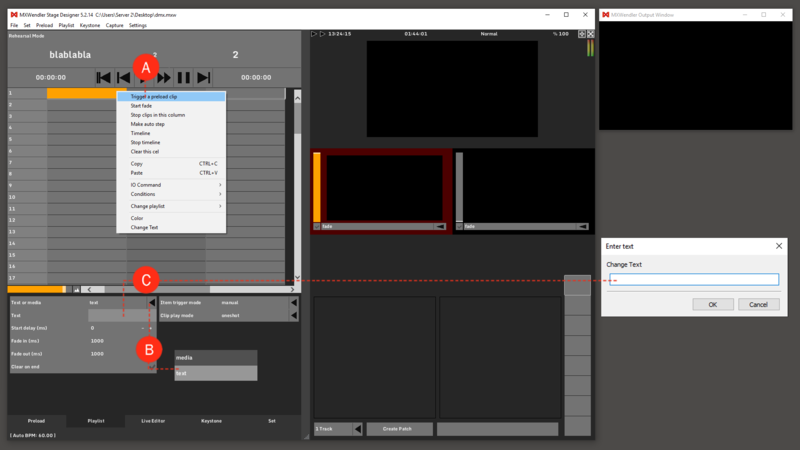 This will be displayed as a Supertitle in this playlist cue.
→ Size, font and color of the Supertitles can be specified in the media settings (a)
→ These settings will apply to all Supertitles
Creating Supertitles using a wizard
Because an opera may have hundreds of text lines, it is sometimes easier to create a text file first and then insert it into the playlist using a wizard. The text file is simple to create, but it should follow specific rules.
Each line in the text file will create one text slide
If the text file line contains a semicolon, it will insert a new line in the text slide
Example text file:
This will be the first slide
This will be the second slide
This will be the third slide; This will be the second line of the third slide.
Once you have created such a text file, you can import it using the Playlist Wizard.
Open Playlist → Wizard ...
Set 'Wizard Type' from 'Preload ...' to 'Text ...' (a)
Drag the created text file to the text area (and / or edit it in text field) (b)
Complete the playlist settings (column, fade times etc.) and click 'Create'