Windows 10 + Nvidia and Intel Cards
Jump to navigation
Jump to search
How to set up the Nvidia drivers to run MXWendler trough the Nvidia graphic card in case of multiple graphics.

In many new laptops, equipped with Nvidia graphic cards, to grant battery life and lower energy consumption, the Nvidia "Optimus System" addresses which application has to be used with the main graphic card and which with the integrated GPU.

Some easy steps are required to set up the driver.

- Install the latest Nvidia driver for your card.
- Create a shortcut on your Desktop for the desired MXWendler product.
- Restart the computer after creating the shortcut.
- Open the Nvidia driver by right clicking on the Desktop Background (A)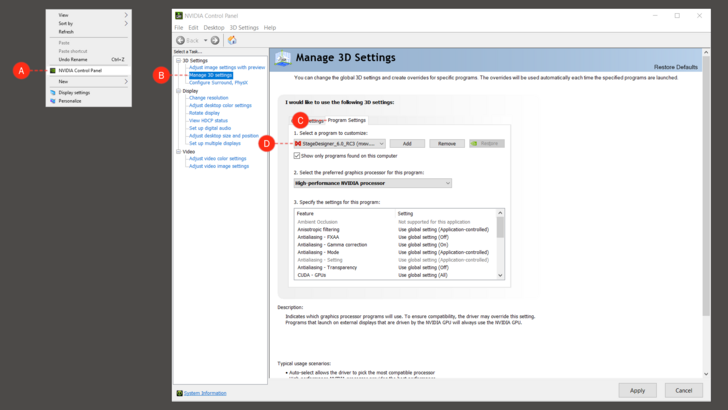 {{#mpdftags: pagebreak}}
In the Nvidia Control Panel:

- Select "Manage 3D Settings". (B)
- Go to the "Program Settings" tab. (C)
- Select StageDesigner or FXServer under "1. Select a program to customize:". (D)

Tip: if the desired software does not appear on the list it can be easily added by clicking on the "Add" button and selecting it.
- Select "High-performance NVIDIA processor" under "2. Select the preferred graphics processor for this program:" (E)
- Click on "Apply".

Now the selected MXWendler Product will be running under the Nvidia graphic card.